¡Hi, Welcome!
Scroll down the page
Note: All of the images, PDFs and music available on this site, have been edited and uploaded by the author. Our site has an SSL encryption certificate. 
***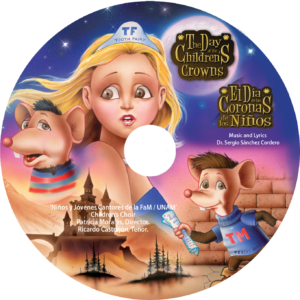 Sung by one of the most prestigious Children's Choirs in Latinamerica, El Coro de Niños y Jóvenes Cantores de la Facultad de Música UNAM (39 choir singers), and the opera tenor Ricardo Castrejón Mayorga, under the direction of Patricia Morales.
Music and Lyrics of all songs by the present author, Dr. Sergio Sánchez Cordero.
Alephsus Valdés final orchestation and recording.  José Francisco Cortés orchestration and choral arrangements.
In Facebook: Niños y Jovenes Cantores FAM UNAM
If you want to download the lyrics in English and Spanish, click on PDF.
Si quieres descargar la letra de las canciones en Español e Inglés, haz click en el PDF
   Lyrics in English

                        ***                    
       Letra de las Canciones en Español

    ***