Hi, Welcome!
Scroll down the page
Note: All of the images, PDFs and music available on this site, have been edited and uploaded by the author. Our site has an SSL encryption certificate.
NOTE: The PDFs are intended for educational purposes to be used by families and schools. They are copyrighted and can not be edited by any means, or any part of it substracted and/or added. Or be used for profit. Joint ventures are welcomed. Please contact the author at cordero@hadayraton.com or at cordero@fairyandmouse.com 
***
The Flat Spoon and the Cheek Retractor
(As of January 2021, only available in Mexico)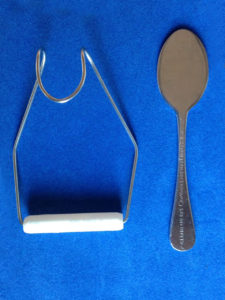 We had to help families MAXIMIZE supervision and toothbrushing of children during elementary school of their 

So we invented these

two devices.
Hi! We must introduce ourselves first, because you  have never seen us before! You surely love the spoons that Mom has bought you, but this one is completely different…IT IS FLAT! The beauty of it, is that nobody had ever thought of using a mirror-polished FLAT stainless-steel SPOON as the first UNBREAKABLE dental mirror for family use…that is,  if the  child is 'willing to lend it to other family members', because children regard it so special, that he or she want to keep it as a precious personal object of oral hygiene!
When the Flat Spoon comes close to a child's mouth…he or she will open their mouth instinctively…inviting their parents or grandparents to supervise toothbrushing!
So how do we use it?…and what about the Cheek Retractor?
We have prepared a Downloadable PDF for you. It even comes with photos on how to use them!
***
There is something important  for every member of the family, little kids will love the illustrations, older kids will get immersed in the story, parents and grandparents will understand their committment to establish  a preventive culture at an early age, maximizing oral hygiene and minimizing added sugar consumption…that is  'brush every day…and keep sugars at bay!'
END OF PAGE 
***